Since 2018, Discover® has automated over 275 manual processes, amounting to over 1.5MM in annualized hours back to our employees. Scaling and maintaining the Discover automation program is possible because of our clear structure and governance.
At Discover, we use a -and-spoke model. This article describes the Hub-and-Spoke model and how we implement it across business units at Discover.
What is a Hub-and-Spoke model?
In this model, there are two distinct roles: the centralized Hub team and our six spoke teams. The following image shows an diagram of our model at Discover: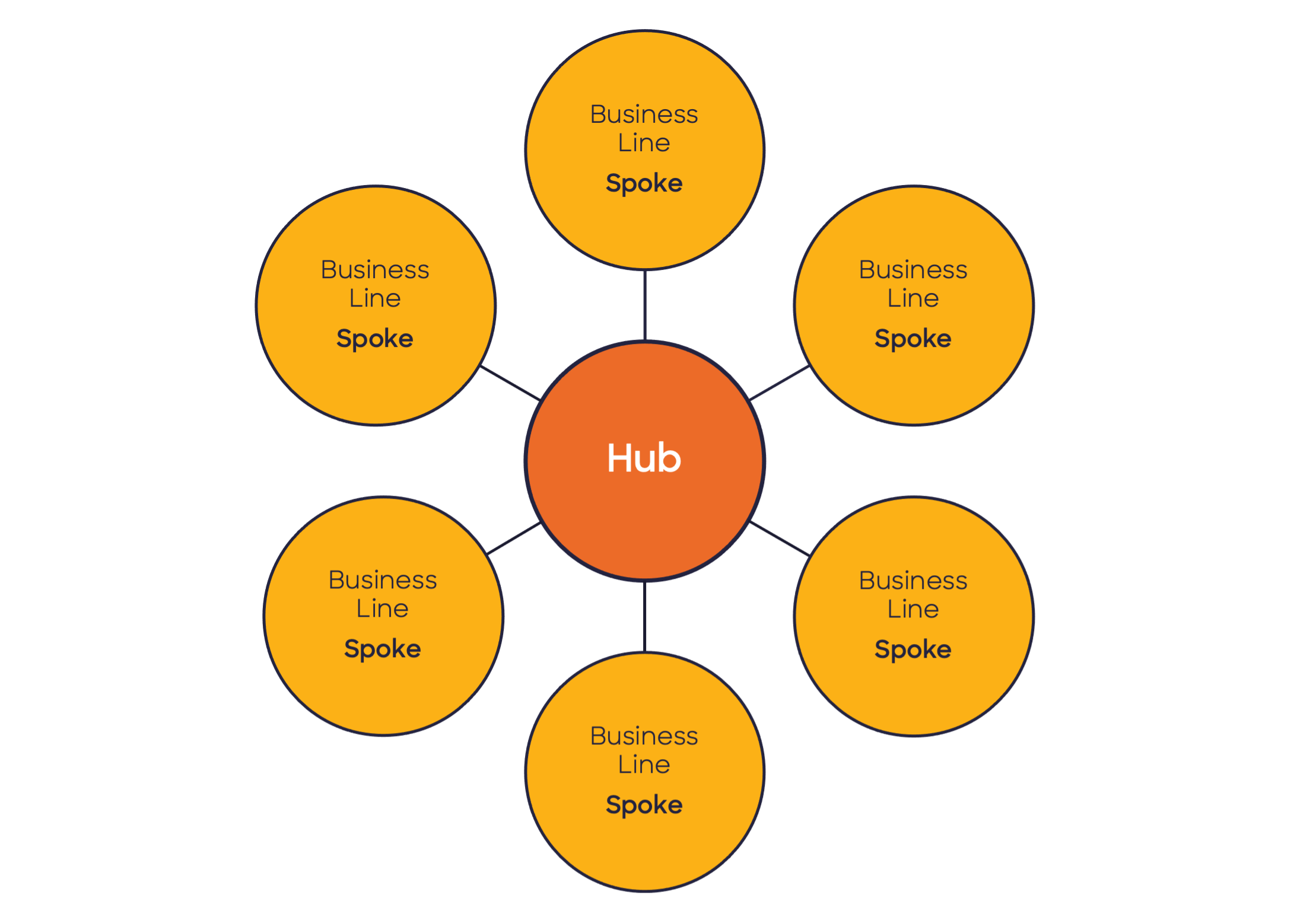 The Hub
The Hub operates as the centralized governance and support. Their responsibilities include:
Corporate reporting of program health through spoke team data measurements
Ensure adherence to Risk and Control standards
Provide infrastructure and platform support
Manage enterprise RPA (Robotic Process Automation) communication and forum administration
Spokes
The spoke teams are delivery teams comprised of certified RPA developers. Of the 6 spoke teams, 5 are embedded in a line of business. These teams identify and automate the opportunities that align with their business area's strategic priorities. Their responsibilities also include:
Maintain and prioritize their area's RPA backlog
Create and maintain process automation definition documentation
Analyze potential solutions, including measurable impact of implemented solutions
Maintain and offer a first line of support of RPA solutions in production environments
Provide coaching and mentorship
The sixth spoke in the Discover model, known as the Tiger Team, sits within a central business unit, but provides automation support across multiple lines of business and cross-functional initiatives across Discover.
How do spokes stay aligned with the Hub?
Each spoke reports up to their line of business and their work is prioritized in alignment to their line of business' goals and strategies. However, each spoke has a dotted line back to the Hub. As part of that dotted line reporting:
The Hub gathers quarterly metric reporting from each spoke, allowing the Hub to report on the health of the company's RPA program based on defined and standardized metrics.
The Hub holds meetings consistently throughout the month to stay connected with spoke leaders, discussing any program updates, collaborate and in general create a learning community
Learn more about automation
Through our strong governance framework and talent pipeline, Discover was awarded BluePrism's 2022 ROM Excellence Award Winner for Americas All-Star award. In addition to winning awards, the Hub-and-Spoke model we use has helped us scale automation across Discover, making our technologists more productive and effective.
You can participate in our quarterly automation round table conversation! Read this article for more information and to fill out our intake form.
© 2023 Discover Financial Services. Opinions are those of the individual author. Unless noted otherwise in this post, Discover is not affiliated with, nor endorsed by, any of the companies mentioned. All trademarks and other intellectual property used or displayed are property of their respective owners